Facts
[EXPAND There is a growing number of workfare schemes ]
Each of these threaten people with welfare sanctions if they do not take part. Workfare does not only affect young people- it is aimed at people of all ages and from December 2012, disabled and sick people in the Work Related Activities Group on sickness benefit ESA are also being forced to work unpaid.
For more information on your rights on these schemes, click here.
There is a growing list of workfare schemes now in place. These include:
Mandatory Work Activity (MWA) – The scheme mandates four weeks' unpaid work for up to 30 hours a week. Although the government claims it is "community work", its definition of this includes working "for the profit of the host organisation.". Claimants can face losing benefits for 3 months the first time they do not take part, and this can go up to 3 years for the third time. Claimant's can, and are, referred to MWA at any point in their claim.
The Work Programme – This is essentially a for profit Job Centre you are forced to attend normally after 9-12 months on JSA where you can be forced to carry out workfare at the whim of the private provider. Figures are not available for the number of mandatory work placements under this programme, but Ingeus (owned by city financiers Deloitte) force people to do six month long workfare placements. The Work Programme, is expected to cost  the taxpayer at least £5 billion pounds.
Steps to Work – The equivalent of the Work Programme in Northern Ireland.
Community Work Placements (Help to Work) – From April 2014 people who return to the Job Centre after the Work Programme are faced with the Help to Work scheme. Current plans are that there are 3 parts of which people have to take part in 1: daily sign ons at the Job Centre, 'intensive training', or 6 month long workfare placements.
Day One Support for Young People Trailblazer (London only) – started in Autumn 2012, this scheme forces young people (18-24) without 6 months official work experience (attained in at most 2 jobs) to work without pay for 13 weeks on the first day of signing on. Not taking part can result in benefit sanctions of up to 3 months.
Derbyshire "Trailblazer" Mandatory Youth Activity Programme – "The provision is designed to help Jobseekers Allowance (JSA) claimants age 18 -24 year old who have reached 26 weeks unemployment move in to sustainable employment. It will deliver a period of 8 weeks mandatory work experience through a variety of placements that are of benefit to the community."
All the above schemes' placements are meant to be for 'community benefit'. Practically this means charities, councils, waste/recycling centres, sports clubs etc.
There are also some schemes that, while officially voluntary to start the scheme, they still involve coercion since refusal to participate can lead to claimants being forced onto one of the above compulsory schemes (see this blog for more details on why they are still workfare):
[/EXPAND]
[EXPAND Workfare is not voluntary]
The fact is that all workfare schemes either threaten benefit sanctions – the removal of welfare – directly or indirectly to compel people to undertake unpaid work. See more information on the sanctions attached to a few of the schemes here.
DWP Work Experience
Although following our campaign's success, this scheme is now formally 'voluntary', sanctions remain for gross misconduct. Not volunteering means you can be sent on a mandatory scheme instead. See more info on your rights here.
George Osborne MP stated for the record that:
"Young people who don't engage with this offer will be considered for mandatory work activity, and those that drop out without good reason will lose their benefits."
The Guardian has reported that those who do not "volunteer" for Work Experience have been sent on Mandatory Work Activity instead.
Sector-based work academies
On SBWA, jobseekers lose their benefits if they leave after the first week, or do not attend on the first day. See more info on your rights here.
This widely publicised account of the scheme has resulted in a legal challenge. Cait Reilly claims that she was not informed that there was any option not to take part, which is something that many people report. Her lawyers, Public Interest Lawyers, make ten points about the government's workfare here.
Mandatory Work Activity
Mandatory Work Activity (MWA) carries a heavy sanction regime:"Customers who fail to complete a placement without good cause will lose their Jobseeker's Allowance for a minimum of 3 months." Sanctions imposed will continue to apply regardless of whether the claimant re-engages with workfare. From October 2012, sanctions of three years apply for a "third violation".
See more info on your rights here.
The Work Programme
This Freedom of Information response shows that people are mandated to work unpaid for private companies on the Work Programme. Note: The DWP appear to have removed this link, so you can find it here instead.
Until the government edited DWP documents when workfare hit the headlines in February 2012, Work Programme provider guidance stated:
"Where you are providing support for JSA participants, which is work experience you must mandate participants to this activity. This is to avoid the National Minimum Wage Regulations, which will apply if JSA participants are not mandated."
(See the chapter 3, point 14 of the guidance before and after.)
The campaign has had some success in removing sanctions from some of these schemes. See more info on your rights here.
Steps to Work
This scheme operates in Northern Ireland. Participation on Steps to Work is a mandatory requirement for all Jobseeker's Allowance (JSA) claimants aged between 18 and 24 who have been claiming JSA for six months, and for all JSA claimants aged 25 and over who have been claiming JSA for 18 months. It includes "work experience".
More info here.
[/EXPAND]
[EXPAND People on workfare placements are counted as "employed" in government statistics]
The Office of National Statistics confirmed this in response to a parliamentary question.
[/EXPAND]
[EXPAND Sanctions have dramatically increased]
Corporate Watch Research has found that 139,000 sanctions were handed out to Jobseeker's Allowance claimants in 2009 but this more than tripled to 508,000 in 2011, the coalition's first full calendar year in government. There was little change in the number of people signing on in this period, meaning a much higher proportion of people have had their benefits cut. Sanctions can now last up to 3 years and as of early 2014 70,ooo people are being sanctioned each month. In 3 years of the Work Programme 5 times as many people have been sanctioned as found long term jobs.
Many of these sanctions are initially suggested, or 'referred', to the Department of Work and Pensions by the private companies the government has sub-contracted to run many of its welfare schemes, such as the flagship Work Programme, for people who have been signing on for a year or more. DWP statistics, obtained by a Corporate Watch freedom of information request (download the disclosure here), show companies such as Serco, Seetec, Working Links and A4E have been even more eager to sanction people than the government.
Further Corporate Watch research has found that approximately 1 in 5 people sent on Mandatory Work Activity have been sanctioned for between three and six months.
[/EXPAND]
[EXPAND Workfare replaces jobs and undermines wages]
The minutes from the Social Security Advisory Committee's meeting on the 7th December 2011, demonstrate that concerns were raised last year that workfare was replacing paid employment.
"….there was also a potential issue around equity between work experience placements and permanent staff.  For example, many retail jobs required staff to work for 16 hours each week, with overtime payable for any hours worked beyond that.  Work Experience allowed for 25 hours work activity, so overtime to permanent staff was being reduced or removed.  [p.9-10] There was also evidence to suggest that work experience placements were being taken on to cover Christmas vacancies."
This is certainly what Boycott Workfare has found, with ASDA sending paid staff home early over Christmas and using workfare to fill the gaps, Argos explaining "Christmas is our busiest time of year and we are pleased to provide the opportunity for work experience during this time" and a staff member from Holland and Barrett informing Corporate Watch that workfare has replaced overtime that used to be available.
In February of this year, the following account emerged from one MP on the Public Audit Committee:
"… the situation that I am observing in retail where people are being placed for free in retail operations for work experience….

…squeezing out permanent employment in relatively low-paid retail. I have noticed companies such as Tesco making their standard contracts four-hour contracts. WH Smith has a zero-hour contract policy, as do places such as Primark in my constituency. I have constituents who have worked in those places and who are not getting the hours of work that they used to have, which is obviously having very substantial follow-on impacts on tax credits and so on….

…In my constituency, one of the things that is happening is that many people are being given work experience-unpaid-in retail,…when they [retailers] are offering jobs, a company such as A4e, which operates in Slough, can say to Primark, "If you want more of our free workers, I hope you are going to give our people 20-hour jobs…

…I want to know how – it is not even in the Report – we protect against the risk of job substitution as a result of this programme, because it is not factored into how people are paid."
[/EXPAND]
[EXPAND The government is rolling out workfare on a massive scale]
Tens of thousands of forced unpaid work placements have already taken place.
The government intends 250,000 workfare placements on the Work Experience scheme alone. If each placement is 8 weeks of 30 hours work, this is 60 million hours of forced unpaid work.
850,000 people were expected to be referred to the Work Programme by the end of 2012. However, due to the "black box" approach the government uses with the private providers, it has so far refused to publish how many of those are being forced to work without pay.
The Mandatory Work Activity scheme was expanded in summer 2012 to a capacity of 70,000 places a year.
Boycott Workfare maintains a list of organizations profiting from workfare, with links to references for those organisations which have withdrawn.
[/EXPAND]
[EXPAND Workfare does not work]
On the 1st of April 2011, following a review of the evidence, the Social Security Advisory Committee's report was damning. It advised the government not to introduce Mandatory Work Activity, and observed the following:
"Published evidence is at best ambivalent about the chances of 'workfare' type activity improving outcomes for people who are out of work."
"We are concerned that mandating an individual to this scheme could also have the opposite effect to the one intended."
"This seems to us to signal that being mandated to mandatory work activity is regarded as a punishment…"
In June 2012, peer-reviewed research by the DWP concluded that Mandatory Work Activity had "no impact on the likelihood of being employed compared to non-referrals.". The trial of a scheme involving 6 month long workfare placements was found to also have no effect on helping people find work.
This graph shows that the statistics currently available demonstrate that workfare makes no difference to employment outcomes. As Ben Goldacre concluded: "Bottom line: it turns out people leave JSA at roughly the same rate, whether they're doing workfare or not."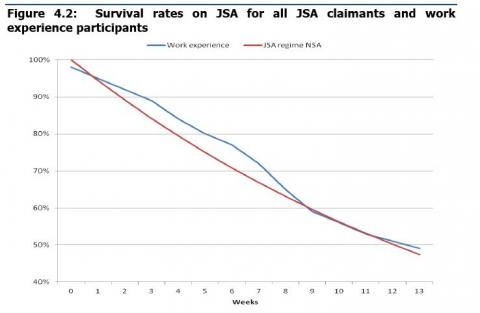 This means the government's repeated claims that 50% of people who have undertaken workfare on the Work Experience scheme have either found work or stopped claiming are incredibly misleading. More on why this is the case here.
As far back as 2008, research for the DWP on workfare concluded that:
"There is little evidence that workfare increases the likelihood of finding work. It can even reduce employment chances by limiting the time available for job search and by failing to provide the skills and experience valued by employers."

"Workfare is least effective in getting people into jobs in weak labour markets where unemployment is high."
In fact workfare has been a failure wherever it has been implemented.
The success of the Work Programme is being seriously questioned as well: See this summary from February 2013.
In January 2012, a report from the National Audit Office stated that there was: "a significant risk" that ministers' assumptions about the numbers who can be found jobs may be "over-optimistic".
[/EXPAND]
[EXPAND Workfare affects everyone]
The number of unemployed stands at around 2.67 million (a rate of 8.9%). The TUC has suggested that the real figure could in fact be over 6 million.
It is predicted that there will be 500,000 public sector job losses over the next five years. In a clear sign that the government intends to use workfare to replace the gaps left in public service delivery, the provider guidelines for the Community Action Programme suggest that a community placement would be appropriate at  Local Authorities and Councils, Government Departments and Agencies, Charities and third sector organisations, Social Enterprises, and Environmental Agencies. Indeed, we have already seen workfare in the NHS.
[/EXPAND]
Now you have read our facts about workfare (which are referenced), you may be entertained to see how Chris Grayling's claims on the Today Programme on Radio 4 on 24 February 2012 compare!